Very lively responses coming in from the writing prompts on our Facebook page - they may not appear in the order of the prompts - some attract more work than others - but will be lebelled with the prompts they relate to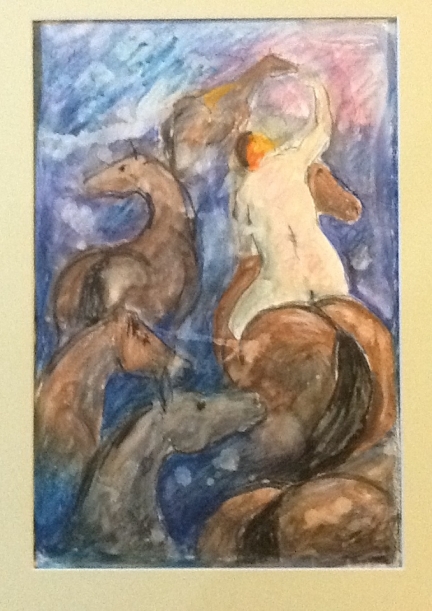 Woman and Horses : Elizabeth Waugh
Responses to promps
Dancing Prompt : Rationing.
Despite feeling she was being tormented by an army of ants, Mavis was delighted to join an equally ecstatic Barry for the first dance at their impromptu wedding. The thought that she'd managed to obtain a grey serge suit on the black market without parting with her precious clothing coupons fuelled her excitement. She felt the serge slide over her thighs; just knew he'd enjoy peeling off her silk stockings later – well worth a month's ciggy allowance she thought, and he'd thank her when his cough stopped troubling him.
Steph Newham
Dancing Prompt : Bad Dancer
Stiff.
Then stiffer.
Like waltzing with a wheelbarrow.
I was quite the dancer in my youth,
you say,
lying.
Seth Crook
Fog Prompt : Twenty Fourteen Passes
Today I look out through spattered glass
at dark afternoon skies,
fog still masking the far view,
but yesterday's festive frost all gone,
the garden back to slippy mud
and green grass, hungry blackbirds.
On solstice eve I dreamed
of surprising myself; walking
into warm seas without fear
in a night lit by a huge dark moon
the colour of moonstone or magic.
Tomorrow we'll call it a new year
the future begun again,
a corner turned not good or bad
but framed as fresh, a chance to change
and shape ourselves, our world, anew.
Katie Ewing
Fog Prompt : Show Me The Way
Paths of Glory,
simple cycle paths,
psychopaths
that seem so disordered.
Pathetic paths
that barely mark the surface.
"Is this really one?", you ask,
as the outlines fade,
leaving only you,
two sheep, the mist.
Seth Crook
Epiphany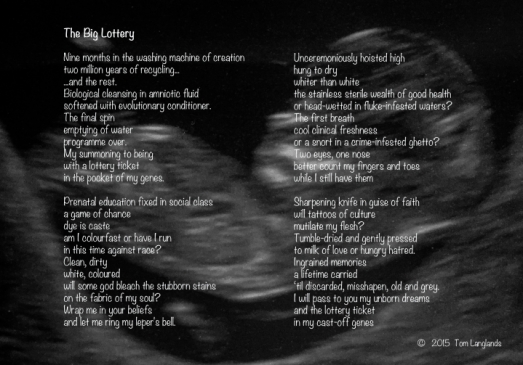 Greece
anchored
through mirror
of Ionian Sea
cloudless
blue
drifting
on blue
floating
over silken fish
coruscating crystals
of sparkling light
surfing ripples
to sun-baked shore
hot
burnt red
rock blistered
peppered scrub green
silence
save for a thousand
hidden cicadas
lizard
toasting
on green leaf lounger
cooled
only by the breeze
from a passing
butterfly's wings
Tom Langlands
....................................................
The Birds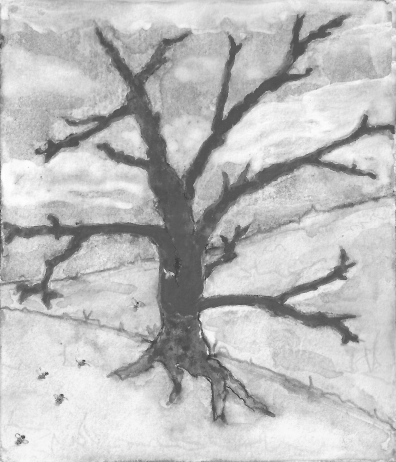 Equipoise
I tread through lonely winter's chill
to find the river strangely still,
reflect on how there must be life
beneath thick fleece of ruffled ice
On this bleak scape I catch gouged out
a languid eye of empty black,
muse on curious, darkling spout
where underlife must weave and lurk.
Whoosh! Fulgid, cyan rush of spume,
three startled fishlets to their doom
flail in vice-trap beak – fisher king,
his equipoise within fanned wing
A glimpse of season's swingeing bite,
frozen image of fauna's plight,
his flurry deep inside my head
the king survives, small fry are dead
Christine Ashworth
Dead Tree - Hazel lowther