Nature Diary : Fiona Russell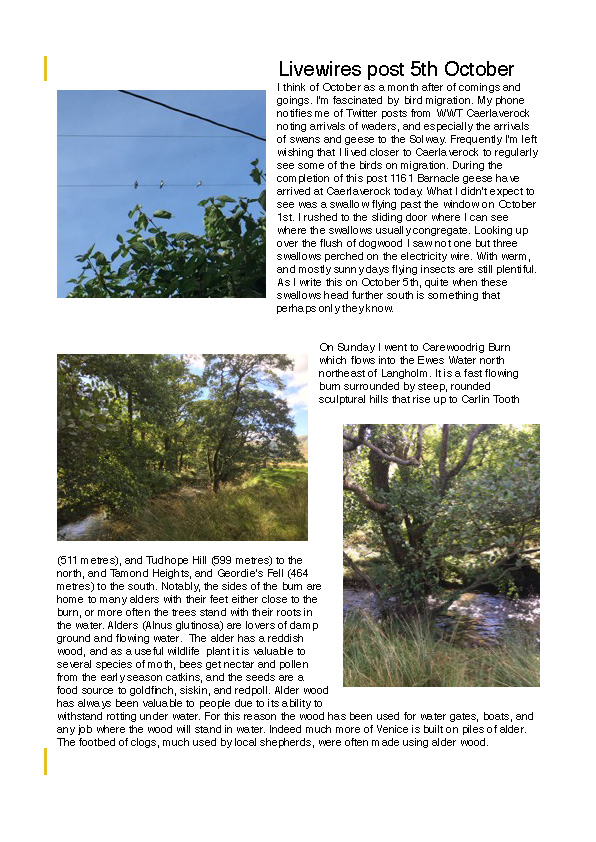 The Sappit Field
is drifts of yellow mimulus gently
nodding to roe buck grazing there
is scythe winged swifts looping, careening,
whorling in sinking amber sun
is snow-berry on frosted twig, a slither
of mottled moon above Kenlum
is the rowan tree with blood-red fruit where
sharp-billed fieldfare bicker and gorge
is the brown river bed where dippers walk
and sparling once slid under rock
is a blue tit swinging on tufted grass,
whirring his way from reed to birch
is the wren, tail cocked, scolding three teeny,
dumpling chicks as they fledge at dawn
is drifts of yellow mimulus sweetly
shielding a sloe-eyed, speckled fawn
by Christine Ashworth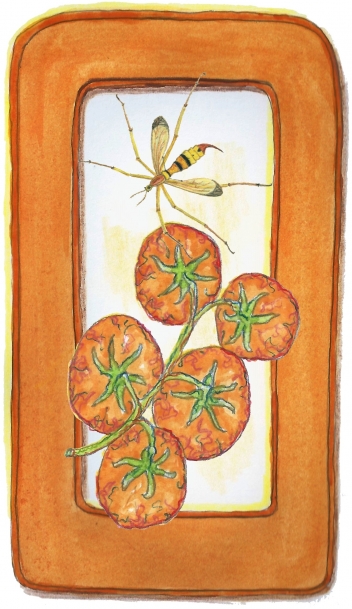 Tomatoes with ctenophota : Hazel Lowther
Silhouette.
In the faint golden afterglow
Of summer's evening,
A heron stands bathed,
Its back damp with falling dew.
Motionless.
A proud silhouette as night drops,
Hiding intent to pierce
The silken waves
And spear unwary fish.
Fading into the night, and yet
Remaining vigilant,
Waiting,
Serenely, knowingly,
For unsuspecting prey.
Thelma Hancock
Owl Light
Owls at twilight
Moan and quibble
Sociable in Autumn's
Smoky after glow.
Sharpened by frost;
Their voices echo
Like old women
Comparing ills.
A last companionship,
Before Winter compels
Sharper cries of lone
Hunting until Spring.
Anne Micklethwaite.
Flock right in
Migration's in the blood at birth, obey its calling;
Hi, I'm Bill Peck, central at the head of the flock,
Flying a V formation on thermals we're moving.
Whoop; squawk; structure's intact.
Climate change occurring, not preventing departure;
Tempests may torment us before journey's end.
Barnacles are endangered for decades,
Protected now for posterity.
Trying my luck on Claudia Bird, we've reached Caerlaverock.
In this safe dwelling we're mating; figures swelling,
Stretching our wings; finding fodder like confection;
Others perceive our presence.
ID: a breeze; individual markings on our beaks; look,
Ring us; they do. You know what we're up to.
A name given's a donation to this location,
Wildfowl Wetland Trust.
All vulnerable species welcome here; nurturing
nature is the game in this location.
Sustaining; preparation; a return migration.
See you again next year.
Rita Dalgliesh
............................................
Absence prompt
Mr Heatley
You took on a mission to walk in faith,
Opened your heart to a community;
Your pastoral duties you embraced,
Equally observing rich and wretched.
Motivation: His message to consider.
Conspicuous by your absence; how?
This heart has missed you, sore
For all you taught and tended,
Filling a hungry soul; decease,
Absence; memories remain.
Rita Dalgleish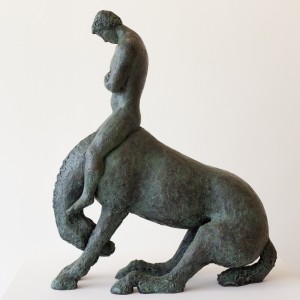 If I were a centaur - Liz Waugh