Sheep Shearing (abstract) mixed media - Elizabeth Waugh
Absence Prompt
Absence.
I remember how the fiddler reeled notes higher than the buzz of voices swinging in waves around the walls of the barn, enveloping the dancers in a community hug that wove endlessly through the evening, leaving me outside its shelter. Not that I minded, I'd left this place long ago, never a thought to return. But then stirrings to return led me a merry dance until I found myself responding to Mair's invitation. She never knew I was coming. I left as the iceflows crackled and creaked their way to the mouth of the St. Lawrence. Then eastwards, a chill wind to our backs, bellying our sails as my lost baby had bellied me.
Steph Newham
River of Life
Mighty river, flowing by,
Underneath a bright blue sky.
Rushing onward into the sea,
Whatever can your hurry be?
Crashing over a man-made caul,
Swirling, frothing, as you fall.
An otter emerges from your midst,
Searching hungrily in the mist.
A heron fishing in the haze,
But only on those quieter days.
Scanning in the salmon leap,
For fish emerging from the deep.
A cormorant's sometimes to be seen,
Across the river, at Mill Green.
Between making catches, all hard won,
Drying its feathers in the sun.
Goosanders bobbing up and down,
In the river, cold and brown.
Always giving of their best,
Seldom stopping for a rest.
And so, the time, it marches on,
All is quiet from dusk 'till dawn.
I wonder what sights will come our way,
Tomorrow at the break of day.
John Newton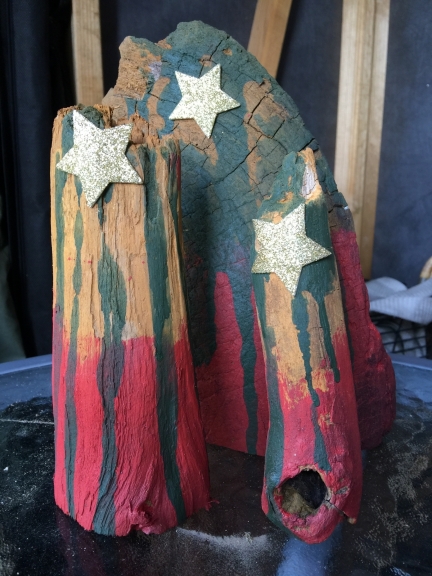 Epiphany : wood from Powfoot shore - Geoff Smith
Part III of Donald Adamson's Reflections
With Morgan at the back of my mind, but before re-reading his poem, I made my own effort. Less sensual, less confident (for I see creativity as a hit-or-miss thing at any age). Less memorable, too. Still, I feel no shame in being unable to match one of the great poets of the 20th century, at the height of his powers. Here's what I wrote:
SAILS
So much they've been through,
enough to last a lifetime,
storm-battered, patched and worn.
Hoist them again! –
these sails, these synapses
in hope to catch
whatever winds may come your way.
Who knows where they'll take you?
Maybe you'll make port
among green islands
or beach the boat on barren mudflats
or else there will be nothing
but a nameless scattering
of planks, mid-ocean – so be it:
it's all in the setting out,
the weighing of the anchor for the voyage
over and over again
whose destination is always
somewhere and anywhere
and nowhere and everywhere.
So, I pass the baton on. Does anyone else want to take up the theme, the challenge?
....................
Dragon Prompt
Why The Dragons Disappeared
They grew canny. Wised up.
Tired of being lanced and jabbed by would-be heroes,
irritated by the challenges
of declaiming knights in over-polished armour,
or being jolted by the screams of the fainting,
overdressed ladies who could simply run away,
they transformed into gusts of wind.
So are never seen or caught,
only heard tunelessly whistling over human trivia,
occasionally, flamelessly
destroying roofs
because they can, because they are still dragons.
Seth Crook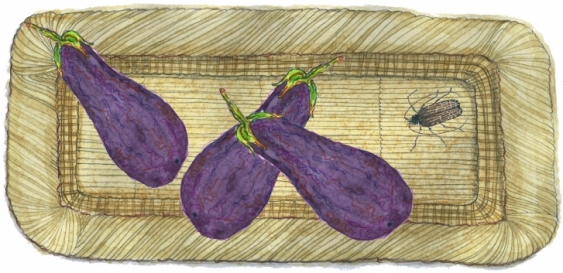 Aubergines with huku - Hazel Lowther
Mist Prompt
On the brink
At the waters edge
A place we often seem to be,
Watching our lives
Spread out to the mist,
Knowing we must go
But unsure of the sea
Eleanor Chesters
Mist
Blood has such a sweet smell. I remember the autumn mists; the ritual slaughter, blood for black pudding. In a good year, two pigs, killed in the stack yard, the warm blood stirred rapidly into oats before it congealed. Later, slick shiny liver, sliced thinly, fried with brown onions in goose fat from the Keillers stone jar in the pantry.
Years on, lying relaxed beside my wife, l smelt the blood of her monthlies; it was sweet to me.
Now this blood, this spillage of war smells rancid. It invades the muddy foxholes paved with the dying. I cross a field overhung by the mist blanketing the dead. In the future pigs might farrow on this land in their own sweet stench as the sun burns away the mist.
Steph Newham