Some of you have asked if responses to prompts on the Southlight Facebook page
have to be sent in straight away - not at all - if you find a prompt
on any day in the month that tickles your creative urges -
just send it it - the response work is labelled with the appropriate prompt.
So, go back to Page One if you like......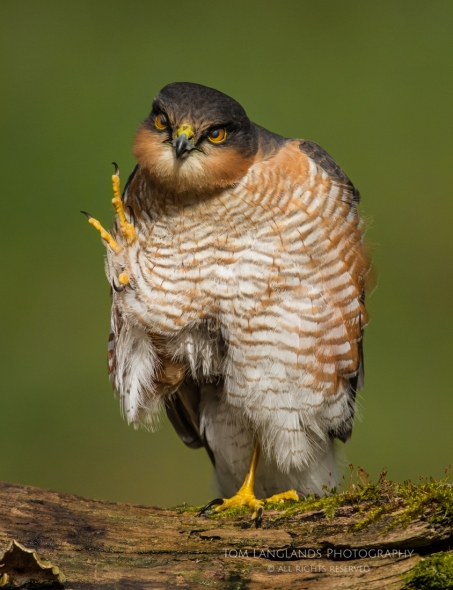 Sparrowhawk : Tom Langlands
The Sparrowhawk
She bobs her head seeking a fix
glare fierce, pupils dark pools
sparrow and sparrowhawk
degrees of separation—zero.
After, plucked feathers in an arc.
Leonie Ewing
(First published in
The Dawntreader 34
2016)
Family Possession prompt :
Family treasure - odd things. None of it explained by narrative, history or hand-down conversations. Speculation, imagination, deduction fill those gaps.
A minuscule section of a mid nineteenth century Wedgewood tea service, leaves tumbling over a few cups, deep saucers, and a plate or two. Said to be a favourite of my paternal grandmother (who died before my parents met), but realistically, deduced from birth dates, I'd imagine she too inherited it, from her mother, who has no name.
The pair of vaseline glass vases, which I'd presume to place on a grandmother's mantel, or in a cabinet, now pale against the faded red plush background of my own display; along with two tiny, palest opaque turquoise glass boxes sweet with gilt decoration, with only one lid to share between them.
The 1889 Paris Exhibition sewing box, the child's escutcheoned play tea service in the shell covered box.
One engraved celery glass, two silver communion cups, three raffia baskets, and the biggest inheritance of all, the family painting.
Big gilt frame, yay big, hanging on my wall. Two sailing ships, one an East Indiaman, and small boats rowing between the two before a backdrop of palms on a tropical island. The small boats are crammed with passengers - one of the ships is on fire, the mast starting to fall. Unsigned, but professional. Used to hang in the dining room - the back room of the Birkenhead terrace - above my father's toy box.
My grandfather's log of his dramatic voyage on the SS Cariboo. His 'prentice made brass pieces, now dim, for matches and candles.
A fragment of a wartime letter home, with drawing, from my father to his wife, saved from the farewell fires of 1964.
Most rescued, or perhaps wrested, from the bridesmaid-turned-housekeeper who, with no family left to care for, clung to the wreckage of my family home, squatting as gatekeeper. The childless only child's inheritance.
Anon
Life Giver
Crouched in the early light
body rigid-
waiting,
soon antlers are waving
almost to greet;
I bide my time
he descends towards me
my spear is primed
Closer now-
he hesitates,
Twang! Whoosh! Kill!
his body will sustain life;
looking into his eyes
I feel no elation
only gratitude
as I bow before him.
Eleanor Chesters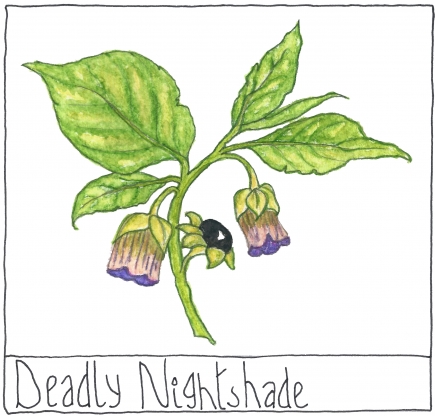 Deadly Nightshade : Hazel Lowther
Deep Sea Prompt
Angler fish rant.
Some call me a Sea Devil, but what's a girl to do, lurking under this continental shelf? I smile, broadly, enticingly, you'd hardly call me a shrinking violet. I'm the ever open door – welcome in. Welcome in. I don't know why you all keep your distance. Do I repel you? My problem is, I'm too kind; don't I let you blokes with your underdeveloped gonads hitch a ride? let you fuse to me, not just for a quick slick flip. No, I allow you to digest my flesh, absorb your nutrition from my blood, at this vascular level, it's for life. I ask you, who else would offer this succour in return for what...? Sperm, you say... Now I wonder if that's a fair exchange, I'm not sure if a life of multiple spawnings is to my fancy any more. I'm tempted to think you're a blatant parasite, I want none of your monk- fish habits, but what choice do us girls have? Oh to be free of you, and these dark depths. Oh to swish squiddily in more temperate waters.
Steph Newham.
Layers Prompt
Let X-ray See You're Free of TB
Daddy stepped into the machine first.
Brave Daddy.
A wide plate covered his chest,
and it was huge, so much taller
than three-year-old me.
He whispered think of the shoe sizer
at the shop where Mummy bought my Clarks
how she looked in its window
to see if my toes squeezed?
(With every growth spurt
it shot an x ray through the foot,
the staff, innocents too.)
The nurse offered me a plate of Smarties
Choose red, blue, orange, green.
I hid behind my father's legs
avoided their eyes, twiddled my hair.
This one told the story of a cough, sneeze or spit
my lungs, their in and out, the clean and deep, an MOT.
It was a long time ago
and nothing was mentioned again
about a mass observation,
no headed paper, no result, no appointment card,
nothing in the jumble and tumble
of a house clearance, of a maybe scare, a trouble.
I didn't register for years and years:
it was a game, my Dad a loving con.
Maggie Mackay