Day 15
The Swan Princess : Kirsty A Niven
The moon above, a broken egg-shell,
a glimmer of light, a hope unfulfilled,
I wait for the dance to begin,
the flurry of feathers, a spell shed.
I look out over this lake of tears,
a reflection white and ghostly –
a haunted woman, longing
to swan dive into its depths.
Closer to Leda than true love,
surrounded by burst yolks
and drowning in a static grief.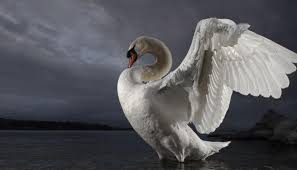 AUTUMN LEAVES : Clive Donavan
I would that when I die I turn
The gorgeous aspect of autumnal leaves,
Not needing paints funereal,
Nor needles of formaldehyde:
Reddish hues, near impossible to name,
Vermeil hints, tints of yellow,
A mellow gold never attained
In commercial tanning salons.
Add a purple splash but, please, no bruise
From hospital inserted tube
Nor haemorrhage of blood congealed;
More rich than Royal, say, more like,
Oh, I don't know,
An Angel's blushing memory
Of an Antique God.
No blues, no whites.
A tracery of veins, brownish,
Shading to a sort of lemony blemishing
At the edges; just a touch of black
And a coruscation of a once-young green
Now hardly seen beneath the
Splendorous refulgence of
The colours of my leaving...
My delicate fall.