DAY 17
Coming to Nizas - Kelly Davis
We've been coming here for nearly 40 years:
this village in the Languedoc, with its fountain,
church and café, all present and correct.
Satellite dishes have only recently begun to bloom
like giant white fungi
on the ancient walls and roofs.
Meanwhile the generations line up
at time's turnstile: children become adults,
then parents, then grandparents.
That little blond boy who rode his bike in the square
is now a householder,
with a name plate by a front door.
Sometimes I think my ghostly double lives here all the time,
keeping my place in the queue,
slipping away silently when I return.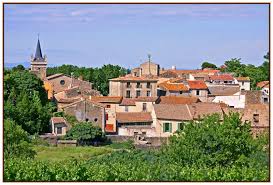 The Lost World : Carol Price
The lost world before the ecological disaster
was the challenging topic of the Arts award.
Papier mache models of extinct elephants,
paintings of imagined tropical forest,
soundscapes of springtime birds and mournful whales,
video clips of insect swarms and leafy trees.
A youth with slim wrists and gorgonzola breath
won the mixed media medal
for a collage of genetically modified seeds.
The ostentatious gold trophy presented
to a widow with sallow skin
for her outstanding depiction
of a breath of fresh air.
She smiled, (just visible behind her designer respirator),
as she accepted her much coveted prize
from a hologram of Sir David Attenborough.