DAY 18
COMEBACK ; Clive Donavan
The tree that will grow out of me
I shall hold fast to by a root.
I will feel the sap and the blossom's tremble,
know the moment of the apple's soft thump.
That other apple long ago,
by that enterprising woman plucked,
would not have caused such woe if she
had only waited for the drop.
I will have time to think of things like this
when I am in my tomb,
but being dead I will forget as I swell
in my new womb.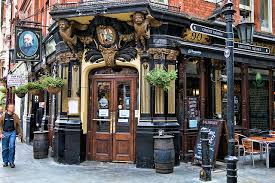 One for the Road : Peter Burrows
How long since we parted swaying in the night,
refreshed from standing at each bar, chills warmed
by the convivial fug. Rubbing hands
at the gleaming sweep of brass pumps showcasing
guest ales. But where do we begin? The Glory's
boarded up. The Old House at Home trendy flats.
The Jester's now a funeral parlour.
So, we bus past The Bull: 'Séance tonight.'
Past pubs waiting saviours, signs that promise:
'Great opportunities! Be your own boss,'
to long-sought welcoming lights. The White Lion
still roars (though it's an age past early doors). Casks
flowing, where something more than this night remains.
Last orders? One for the road, and back again.